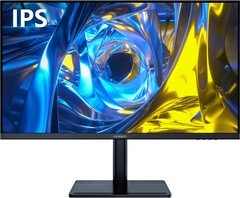 The no-frills monitor doesn't offer much in the way of auxiliary features, but that has allowed for a cheaper and more affordable 4K monitor with excellent >90 percent DCI-P3 colors to boot.
Amazon is hosting a sale on yet another Innocn monitor. This time, the deal slashes $50 USD off the 28-inch 28D1U from now until February 19 for a total price of $199 before taxes. This particular model is notable for its large screen size and native 4K resolution relative to the low asking price.
Other features of the monitor include 99 percent and 93 percent sRGB and DCI-P3 coverage, respectively, and adaptive sync support. Otherwise, this is a barebones monitor in order to keep prices more affordable. There is no support for G-Sync, USB-C, or refresh rates higher than 60 Hz, for example. The retail box doesn't even include a DisplayPort cable.
Users should also keep in mind that the monitor utilizes an IPS panel and not VA. IPS generally offers faster response times albeit at lower contrast ratios than VA. Don't expect black levels to be nearly as good as a pricier VA or OLED alternative as a result.
Related Articles

Allen Ngo – Lead Editor U.S. – 5023 articles published on Notebookcheck since 2011
After graduating with a B.S. in environmental hydrodynamics from the University of California, I studied reactor physics to become licensed by the U.S. NRC to operate nuclear reactors. There's a striking level of appreciation you gain for everyday consumer electronics after working with modern nuclear reactivity systems astonishingly powered by computers from the 80s. When I'm not managing day-to-day activities and US review articles on Notebookcheck, you can catch me following the eSports scene and the latest gaming news.
Allen Ngo, 2023-02-15 (Update: 2023-02-14)